Cultural Events
Förderer unseres DKW - Projektes
Supporters of our socio - cultural project
Merci à nos donateurs
Grazie ai nostri donatori
Bedankt naar onze sponsors
Agradecemos a nuestros patrocinadores


Concerts in the Church St. Concordia, Ruhla (Germany)
"European Heritage Day"
On Sunday, 10 September 2023 the Church St. Concordia
is open to visitors from 11 am - 6 pm. (Multilingual info available)
At 10 am the congregation invites you to a church service.
The Church was consecrated in 1661 and is the
only historic angle church in original shape in Germany.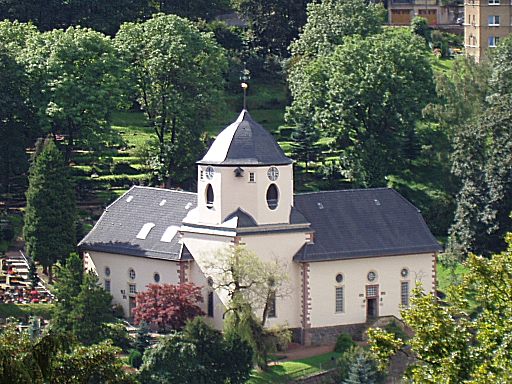 ---
With joy the angel came
Musical time travel through Advent with
beautiful old music from Ireland, England and Italy, among others
Church St. Concordia Ruhla, Saturday, 16.12.2023, 7 p.m.
Sabine Lindner, Erfurt
Singing; harps; kantele; portativ; glockenspiel,
Dominik Schneider, Essen
flutes, quinterne, vocals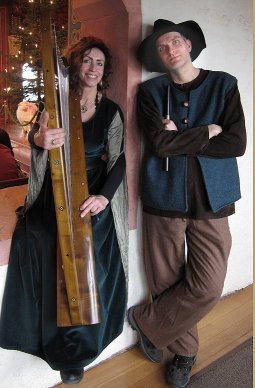 How does Christmas feel, how does Advent sound?
The musicians Sabine Lindner and Dominik Schneider have set themselves the task of capturing (pre-) Christmas moods.
Expectant excitement, joy, festivity, a solemn rush of sound, but also the intimate wonder, the incomprehensible mystery in the face of God's Son, the innocent child who is to redeem the world, resound in the Advent and Christmas carols from almost a millennium.
The songbook of Anna of Cologne, a 15th-century beguine, reads "The angel came with joy".
In the concert, the Christmas Carols from Ireland and England are sung to the harp, quintern and flute, Italian Laude sings cheerfully and lively about the glory of the heavens and peace on earth. Hildegard von Bingen pays tribute to Mary in a song as the greening rice.
The journey finally takes the concert-goers back to the roots:
The Gregorian chant, which has been sung in churches and monasteries during Advent and Christmas for 1200 years.
The musical pieces are framed by stories about their origins, Christmas customs from earlier centuries and meditations.
Free admission. We would be delighted if you would support our church music work with your donation.

Links auf zusätzliche Funktionen und Kontaktinformationen überspringen