From the work of our 1World-Group
In 2005, the Ecumenical 1World-Group in Erbstromtal was founded.

We are a church members group, not a NGO. Members of our group come from several Protestant and Catholic parishes of our region, ie from Ruhla, Thal, Kittelsthal, Seebach - and even Eisenach and Erfurt, although these cities are not in the Erbstromtal.

But this shows that we are open to all interested parties who want to work for peace, justice and integrity of creation and want actively participate.
Currently about 15 people belong to our group.

We work exclusively volunteer i.e. not a member of our group receives remuneration for his work.

Our 1World-Group is open to anyone interested, regardless of belief. We desire of the combatants, however, that they respect the Christian basis of this circle.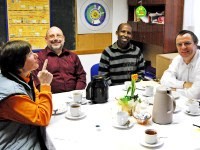 Our aim is to support small projects in our ONE world that are manageable and do not absorb in the massive structure of large organizations. Help should remain comprehensible!

The aim of our work is also the financial support of projects that are committed to the motto "self-help", but also the people of other countries to get closer to our fellow human beings. It is important for us to have personal contacts with employees of the respective project or means to people in Germany, if possible.

Listen to each other, talk to each other, learn from each other - if we succeed, we will achieve together more peace and justice on our ONE earth.
Since the 1World-Group is a small group in relation to charities, we are also particularly interested in the cooperation with other organizations and companies.

Through this collaboration, the commitment can be more effective and beneficial designed and the risk of duplication of effort and failure by inadequately planned and coordinated projects can be reduced. If you are interested in a cooperation with the 1World-Group, please contact us. Thank you!
We decided to run alongside the temporary and limited support for projects worldwide an Education Sponsorship Program in Rwanda permanently.

This program proved to be necessary in view of the difficult living conditions that many children and young people live in even today after they got directly or indirectly victims of the cruel genocide in Rwanda in 1994 where, in the course of 100 days 1,000,000 people were killed.

In addition to this project, which is led by a German volunteer retired social worker in collaboration with Rwandans on site, our group adopts other time-limited projects. Here we are looking for each contact with caregivers or organizations on the ground, in order to have the greatest degree of control and current information.

We also support refugees who find accommodation in our city. We work with various groups and individuals in our town who work as volunteers in this area.

For further information on the subject and content of our commitment contact us, please by email:
We participate with an information booth at various festivals and events. For example, at community festivals, the nature park festival of the city Ruhla, in markets, the World Day of Prayer and church days. Here we provide information on specific projects and asking for donations.

We also invite community evenings with various speakers with a wide range of subjects. Travelers can share their experiences, even with pictures to illustrate their impressions. We also offer a piece of education and broadening horizons for our visitors. Because we want to raise awareness that all human beings are living on ONE planet and that the diversity of the cultures and traditions is a great opportunity to get to know each other and understand each other
We would be pleased if you contact us.
You can tell more about our activities and promote it.
You can download our flyer, print and forward to interested people. You will need the Adobe (Acrobat) Reader which should be installed on most computers or an alternative PDF reader.
You can donate. Bank details are available here.
Bye the CDs with songs from Ethiopia, Ghana and Rwanda. From the proceeds the work of the 1World-Group for the most vulnerable children in our project countries is supported.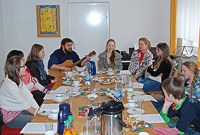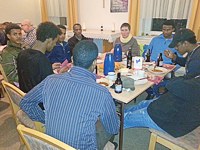 Links auf zusätzliche Funktionen und Kontaktinformationen überspringen